Interdynamics Inc.
Interdynamics, Inc. was founded by our CEO and President, Joan Branch, in 2002.
Her previous experience, as school psychologist, laid the foundation for an integrated healthcare practice which included psychiatrists, psychologists, and other allied health professionals. Interdynamics provides evaluations, therapy, and training to various federal, state and local agencies, consisting of military and civilian personnel as well as public and private schools.
Dynamic Deeds
Interdynamics, Inc. has continued their years of community outreach and service with our Dynamic Deeds Initiative. With our new name, we will continue to be more than just a company as we serve the communities behavioral health needs.

We believe at Interdynamics, Inc. that we have a duty to help out the community we are in. Currently, we have two Dynamic Deeds initiatives in progress. We have asked our Mental Health Clinicians along with each of their principals to nominate a child or family to receive a Gift Card to the supermarket; 22 Prince George's County Schools. In times like this, we know that every little bit can help, and we will.
We are also thanking our teachers and school faculty with fresh hot coffee and donuts. Our Mental Health Clinicians along with teachers and staff play a significant role in Behavioral Health. Throughout the school year, they all work together daily to ensure the well-being of our children, and we would just like to acknowledge everyone and to say, "Thank You".
After this holiday season, look forward to many more Dynamic Deeds coming to the community. Dynamic Deeds likes supporting Stem, backpack drives, Social Emotional Learning, are examples of some of the outreach Dynamic Deeds will be helping with, tailoring them to each community.
Laughter is Good Medicine
"Guy Takes the Bathtub Test for Mental Health"

During a visit to the mental asylum, Guy asked the Director what the criterion was that defined whether or not a patient should be institutionalized.

'Well, said the Director, we fill up a bathtub, then we offer a teaspoon, a teacup, and a bucket to the patient and ask him or her to empty the bathtub.`
'Oh, I understand,' said Guy. 'A normal person would use the bucket because its bigger than the spoon or teacup.
'No.' said the Director, 'A normal person would pull the plug.
… 'Guy, do you want a bed near the window?'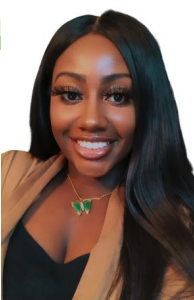 Employee Spotlight
Meet Morgan Tutt, one of our dynamic mental health clinicians. This past fall marked her 6th year with Interdynamics Inc., as well as her second year as a returning clinician at CMIT Academy South Public Charter School.

Morgan served as a PGCPS on-call clinician during this past summer, while earning her LCPC licensure.
During this past year, Morgan led and facilitated several new hire and refresher Behavior Healthcare Works training series sessions and also developed and facilitated various YMCA Family & Community Partnership Program professional development training sessions.

Currently, Morgan is nominated to work with the PGCPS Office of Student Services to be a presenter and panelist during quarterly mental health parent workshops.
She also consults with our COO, Dr. Jackson-Saunders in cultivating ideas and concepts for our school-based 'Dynamic Deeds' project.

Congratulations Morgan
Seasonal Affective Disorder
Seasonal affective disorder (SAD) is depression that happens to a person only at a specific time of year. With SAD, a person becomes depressed in fall or winter, when days are shorter and it gets dark earlier. SAD is brought on by the brain's response to the seasonal changes in daylight. When the daylight hours grow longer again, the depression lifts.

Signs & Symptoms
• Changes in mood
• Negative thinking
• Lack of enjoyment
• Low energy
• Changes in sleep
• Changes in eating
• Trouble concentrating

SAD Treatment
• More light exposure
• Light Therapy
• Talk Therapy
• Medicine
Season's greetings
Happy Holiday's from your Interdynamics, Inc. family. As the end of the year draws near, we'd like to take this opportunity to extend a heartfelt thank you to all of those connected to Interdynamics, Inc. We hope the season is treating you well.

Not only are we a Behavioral Health Firm, we are also a member of the Maryland community. 2022 is quickly coming to an end, and Interdynamics, Inc, is looking forward to an exciting year in 2023.
As we continue to grow, we will also continue the growth of our Community Outreach programs.

Have a great Holiday Season,

Interdynamics Inc.